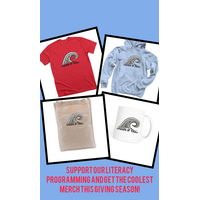 This year, we have diversified our merchandise selection and have added crew neck sweatshirts, mugs and tote bags! Our design is printed on premium cotton material, which is incredibly comfortable and durable. We have also launched a merchandise "store" on Bonfire, where you can see all our designs from the last three years.

👉 Buy shirts here
👉 Buy tote bags here
👉 Buy mugs here
Last year, we sold 149 shirts. This year's target is 200 merch sales! We hope you will buy some swag and rep Friends of Tonga this year! You can also pick up a few for your family for the holidays and support a great cause!
All proceeds go towards enhancing the education experience in Tonga, so stuff some stockings and build some schools at the same time!
---