The Founding of Friends of Tonga® Inc.
Friends of Tonga® Inc. (FoT) is a registered 501(c)(3) nonprofit dedicated to supporting the Kingdom of Tonga. Founded  in 2018 by Returned Peace Corps Volunteers (RPCVs) after a devastating Category 4 Cyclone, FoT sought to support local disaster relief efforts, drive greater awareness of Tonga, and cultivate an engaged community to support the country. Over the past four years, FOT has expanded its mission to promote educational and human development, including partnering with the Tonga Ministry of Education to address the key challenges of limited educational resources, few native English speakers, and the proliferation of unsuitable classroom settings.
---
To learn more about Friends of Tonga, you can check out our mission, our board, and our official documents and reports. 
Also, feel free to contact us at any time.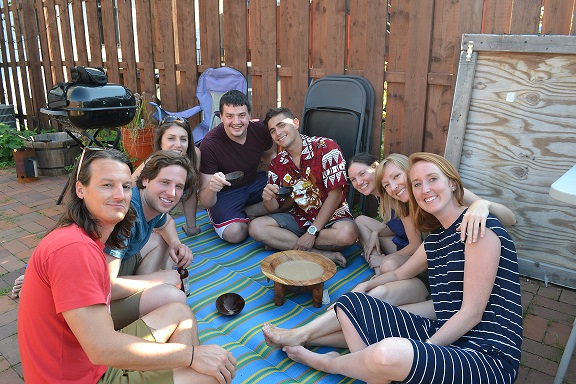 The Kingdom at a Glance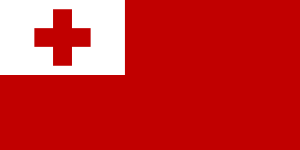 The Kingdom of Tonga is an archipelago in the South Pacific Ocean and consists of 176 islands, 36 of which are inhabited.  
Tonga consists of four island groups: Tongatapu (which includes 'Eua), Ha'apai, Vavau, and the Niuas.
Tonga has a total population of 109,000 inhabitants. Two-thirds of the population reside on the main island of Tongatapu.  
Tonga was given the moniker of the "Friendly Islands" due to the warm reception Captain James Cook and his crew received on their first visit in 1773.  It was later written that the chiefs, in fact, wanted to kill Cook but could not agree on a plan.
Tonga became the only kingdom in the Pacific in 1875 and is considered a constitutional monarchy. Tonga is the only Pacific nation to never be colonized by a foreign power and instead became a British protectorate in 1900. Tongans proudly tout this factoid to visitors. In 1970 the former British protectorate acquired its independence and became a sovereign nation; however, it still remains an active member of the Commonwealth.
The Kingdom of Tonga operates as a Constitutional Monarchy.
The current king is King Tupou VI. 
The capital city of Tonga is Nuku'alofa, which is also located on Tongatapu.  
The official languages spoken  are Tongan and English.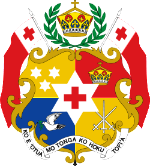 Challenges Affecting Tonga
Environmental Challenges
Degradation of Land/Deforestation: Due to the overuse of the land for agricultural purposes, soil fertility has declined. Deforestation is also taking place as more land is cleared for agriculture and settlement.
Oceans/Water Pollution:  Water pollution has increased due to the lack of proper trash disposal, salinization, sewage, and toxic chemicals from farming activities. Other oceanic issues include damage to coral reefs from starfish, indiscriminate coral and shell collection, and the over hunting of native sea turtle populations.
Land/Air Pollution: Trash is commonly disposed of through open air burning. Traditionally, Tongan waste consisted only of natural resources, such as palm leaves; however, with the modern influx of plastic packaging and processed canned foods, land and air pollution is becoming more prevalent.
Natural Disasters: Located along the Ring of Fire and the Tongan Trench, Tonga is particular vulnerable to natural disasters such as cyclones, earthquakes, floods, and droughts. Most recently, Cyclone Gita, a category 5 cyclone (category 4 hurricane), devastated much of Tongatapu, as 119 homes were destroyed. Moreover, many areas were left without running water and power.  It is estimated that over $152 million in damage was incurred, an alarming amount for a country with roughly $400 million in annual GDP.
Health
Obesity and its Impact: Tonga is facing a major health crisis with obesity. In 2004, 60% of the population was considered obese. In 2006, 92% of the entire population over the age of thirty was considered obese. This trend towards obesity has increased the prevalence of heart disease, circulatory problems, cancer, skin problems, and infertility. Likewise, currently over 20% of the population suffers from diabetes. The rise of obesity has led to a decrease in average life expectancy from 72.5 in 2012 to 67 in 2017.
Infant  and Maternal Mortality: Tonga is rated 126th in Infant mortality rate with 11 deaths per 1,000 births. Tonga is also rated 68th out of 184 countries in maternal mortality with 124 deaths per 100,000 births compared to the neighboring nation of Fiji (ranked 113th), which has only 30 deaths per 100,000  births. 
Lack of Resources: With the increase of health problems facing the nation, there is now a shortage of doctors and resources. As of 2010 there was less than 1 physician per 1,000 people and 2.5 hospital beds per 1,000 people. 
Education
Decreasing Test Scores: Although Tonga has maintained a strong record of educational progress, challenges still face the Kingdom. A recent decrease in Tongan test scores lead to conversations in parliament over transitioning from standardized scores to raw scores. This change to raw scores would make it difficult for students applying to universities outside of Tonga as raw mark scores are not typically accepted. 
Corporal Punishment: Though corporal punishment is outlawed in schools, it remains prevalent in both the classroom and home settings. 
Lack of Resources: Schools lack important resources and many school buildings have fallen into disrepair, creating unsafe and subpar learning environments for students. 
Cost of Education: Although it is free for students to attend public schools in Tonga, parents still need to provide uniforms and materials for students, which they often cannot afford.
Governance and Operations
Operations
Friends of Tonga relies on support from unpaid volunteers to initiate and administer programs. FOT's operational budget funds programs that benefits Tongans in Tonga. The financing of these initiatives is incumbent upon members and donors.  Other revenue streams include online and event fundraisers. Please refer to our upcoming events page to stay up-to-date on these various events.
Governance
Friends of Tonga is operated and governed by a Board of Directors. 
The Board of Directors is comprised of eleven elected officers. Board members are elected by FOT members and serve for three years; board members can be re-elected for consecutive terms indefinitely.
The Board of Directors/Officers have the legal responsibility to act as trustees of members' and donors' funds and to ensure that those funds are used in keeping with FOT's public service mission. Members, as well as interested individuals, are encouraged to join these meetings.
FOT is largely operated by volunteers.