Virginie Dourlet: Teacher, Artist, Film Festival Organizer and International Spokesperson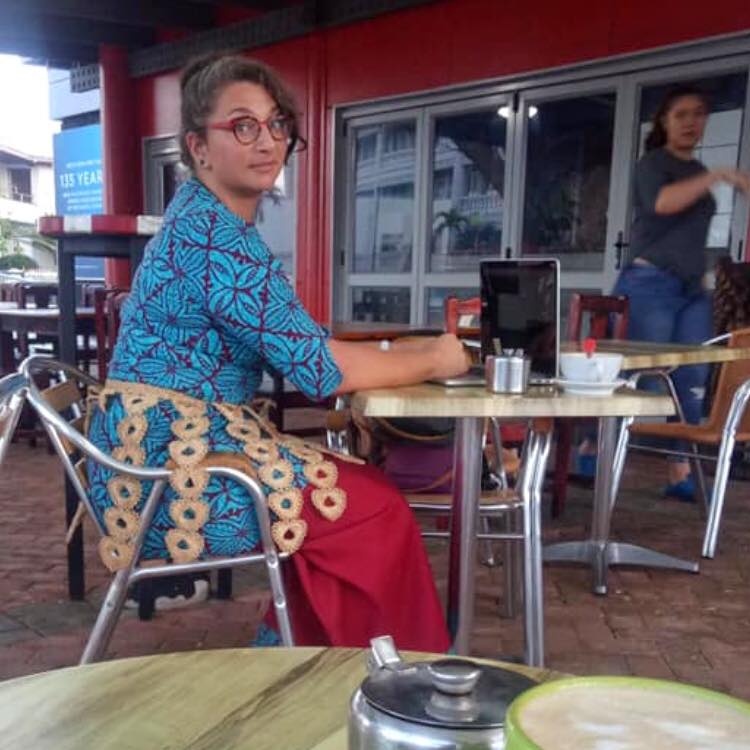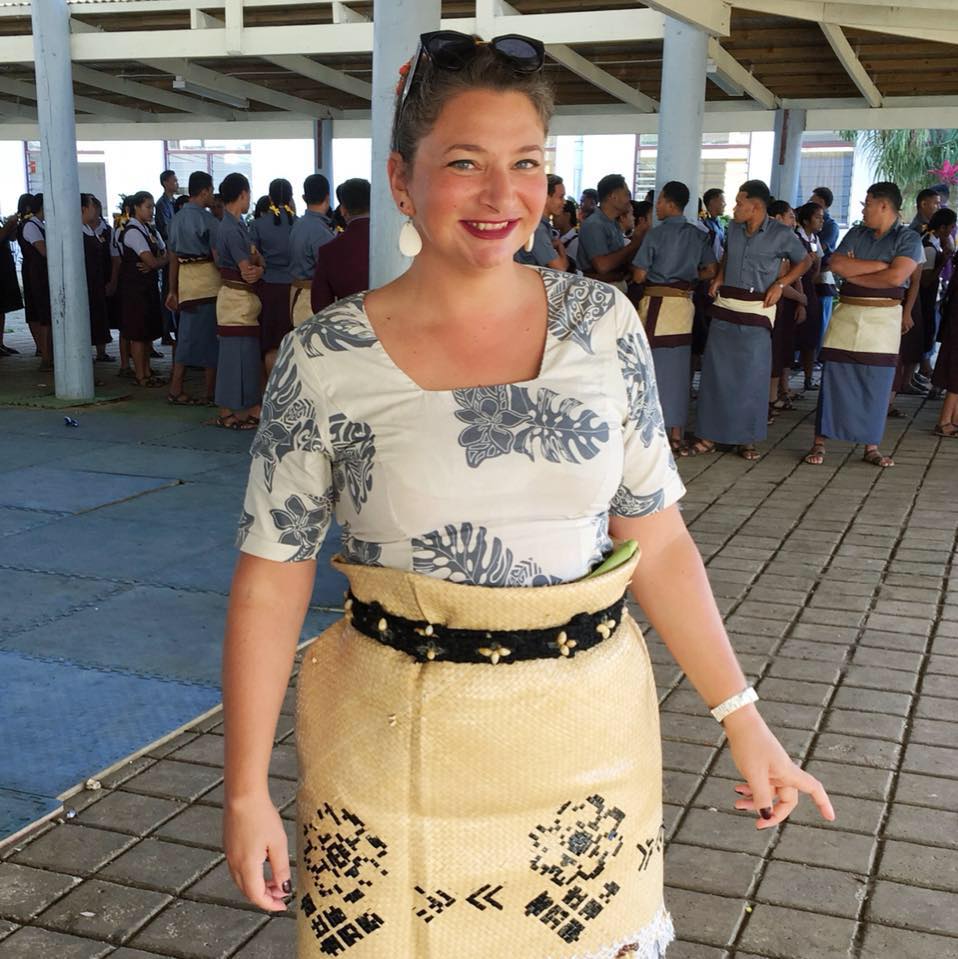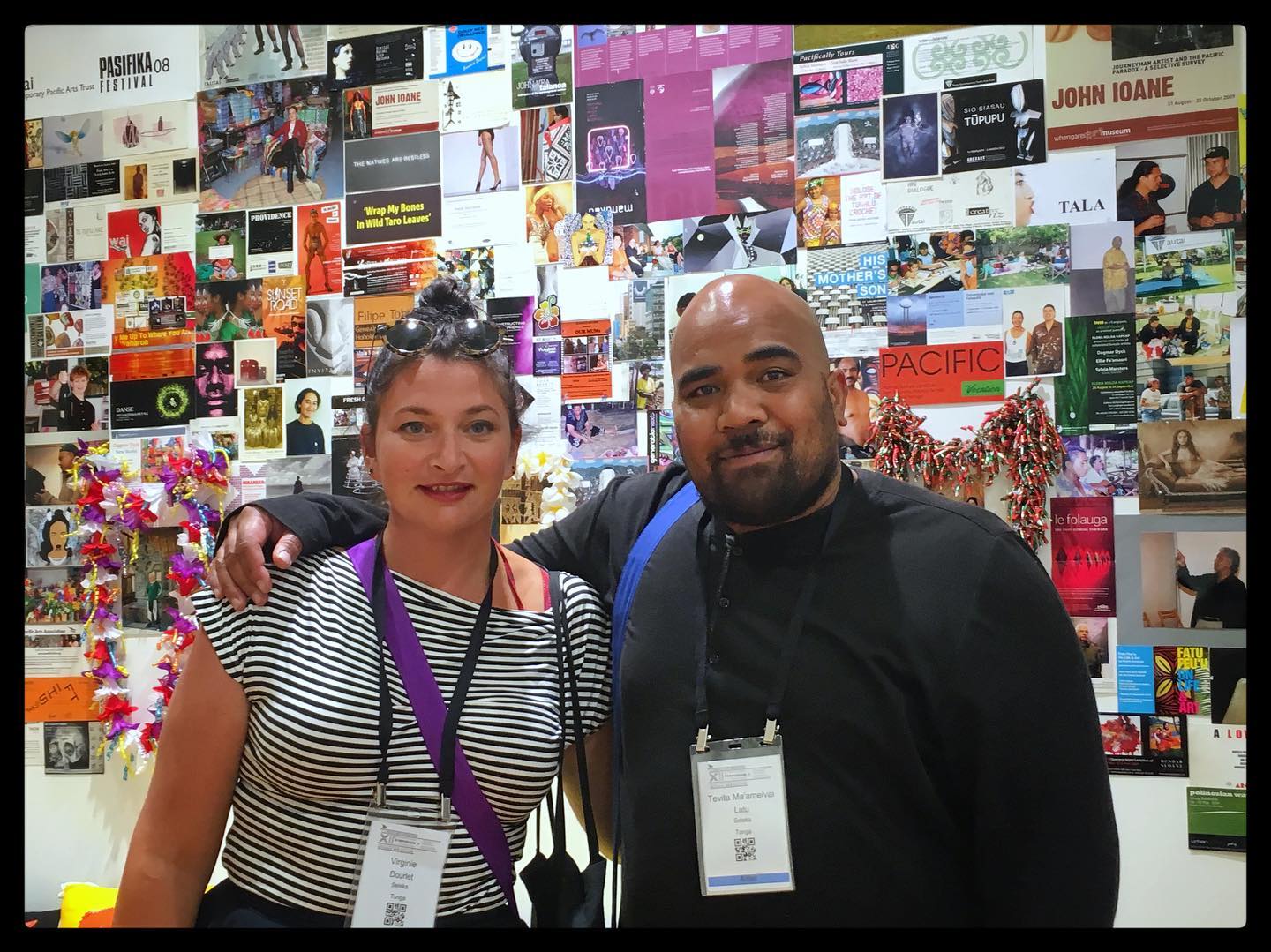 Virginie hails from Paris, France. She discovered her calling thanks to her year as an Erasmus exchange student in Copenhagen, Denmark, where she pursued her Master's degree in Scandinavian studies: she would live overseas and teach French to earn her money. Afterwards, she lived and worked in the Netherlands, Mexico, the Czech Republic, Canada, and Australia before coming to Tonga. She has lived in Tonga, now, for over six years. 

So why and how did she end up in Tonga? In Australia she worked for two years as an International Volunteer in Administration (no joke –that's a thing) at the French Embassy in Canberra, as the attaché for language education cooperation –working with all the schools, universities and French language centres in Australia and networked with the French territories and representatives in the Pacific region as well. 

She then saw the advertisement for a position as International Solidarity Volunteer (a different programme) to "relaunch the Alliance française in Tonga and cooperate with the local administration, education sector and cultural scene." She knew there was no Alliance française (French cultural centre) Embassy, or consulate, in Tonga and that was very much a challenge to her taste, and that she was qualified for. Three days later, she was interviewed and pretty much the following day she was doing the paperwork to fly to Tonga!

She arrived in Tonga in January 2013. Her first year was extremely busy, since she was relaunching the Alliance Francaise project by herself; however, during her second year, she was able to develop a team to help with her work. This allowed her to have more free time which led her to discover traditional Tongan art and hang out with local contemporary artists. Hanging out with local contemporary artists and cultural promoters who are very involved in their community became her main activity –and still is to this day. Similarly, she spends her free time with artists and a bunch of youth, some of which have dropped out of school, or who find it hard to fit in society. 

At the end of her volunteer assignment, she was absolutely not ready to leave. The director of the Ministry of Education and Training offered her to work for the Curriculum Development Unit to write the syllabus for the French language subject in secondary schools. There she spent over 2 years in that position doing all she could to deliver high quality education products in the midst of extreme reforms in the education sector. 

After 2.5 years, she had had enough of the office life when serendipity struck: the French teacher who had been recruited by the Government of New Caledonia to work at Tonga High School was bailing out on them at the last minute. Virginie jokes that after nearly two years of teaching she "still hasn't murdered any students, which is good, and has only cried profusely once: at last year's graduation ceremony, when a student she's known since she was in Form 3 (first year of elective subjects – which French, Japanese and Chinese are) won the King's Prize for best language student as she graduated from high school (Form 7), and less profusely too many times to count, each time anything makes her too proud to have taught something right to a kid, be that in French or life-stuff."

Though teaching isn't her main passion, she has found other projects that have really engaged and motivated her throughout her tenure in Tonga. Most of the time, that's at Selekā. Tongan visual artist, Tēvita Lātū, founded an art circle in 2008 to teach the youth of his village how to draw and paint. It has become a massive, free range kind of art group and youth initiative, working as much in painting, dancing, music etc. as in community work and consultancy at a local and national level, where everyone is welcome and will find a non-judgmental, inclusive group of people to hang out with, do stuff with, and if necessary, find counselling and even a halfway home. Virginie helps where she can: with the counselling when sought out (being a pālangi (foreigner) can help attract certain confessions) and with the administration of the art. 

She has been appointed "international spokesperson" and "international project manager" for the group, and has been loving organizing or helping organize participation to workshops, residencies and exhibitions in New Zealand, Tahiti, the Cook Islands, New Caledonia and Fiji for the artists, and particularly Tēvita Lātū. Her original philosophy was "the less he does in admin, the more time he has for the youth" but she's eventually become his manager because "he's an amazing artist who deserves to show his work to the world but he's absolutely hopeless with communication. Literally. He's allergic to computers and doesn't own a phone". She still hasn't managed to send him over to France, but that's only because the project he wants to run there requires partners in Paris that are yet to be found –but it will be a great residency when it happens! She also dreams of sending the other Selekā members involved in fine arts and hip hop dance all the way, but it's not like France is right around the corner or something…

And because that is not enough, she is also a founding member of the Nuku'alofa Film Festival, and secretary of the board. 2019 will mark its 5th year (ready to enter Class 1!) and the team is more than ever excited to encourage local storytelling through the film media by bringing to Tonga short movies from all over the South Pacific and beyond. The film festival has one rule: our local Tongan audience must be able to relate to the story and its humans –may they be characters in a fiction or people in a documentary. Most movies shown at the NFF are made by Pasifika filmmakers, professional or apprentice. Young Tongans are picking up whatever equipment they can, and shooting. It is not many, but it is a start –and a promising one at that. The NFF also supports important Tongan and Pacific stories told in long format being shown in Tonga, and have namely proudly premiered Leitis in Waiting last year, and will premiere For My Father's Kingdom this year, both amazing documentaries. There will be more, because the Pacific Islanders have the talent –or know to work with talented and culturally minded outsiders- to tell their stories in striking ways, and the people of Tonga deserve to see these stories told on a big screen, in spite of the only cinema having burnt down in the 2006 riots.

She thinks Tonga is a wonderful and crazy place, and she has heard she fits in so well because she is wonderful and crazy herself. 

Virginie's social media posts and blog have been featured on numerous news outlets, especially after Cyclone Gita when she provided real-time updates on what was happening on the ground. To follow her:

Her twitter is @VDakaSini
Main Instagram is @virsine
Blog is www.wordpress.com/homingaway

Also, if you are interested in more information on the Film Festival and Selekā: 

Film festival is www.facebook.com/nffTonga
NFF Twitter is @NFFTonga 

Selekā is www.facebook.com/selekasiasi
Selekā Twitter is @selekaTonga

*Note: FoT had to edit Virginie's biography for space. Her entire biography can be found on her blog.