Al & Dorothy Massinger: RPCVs Group 10 and 11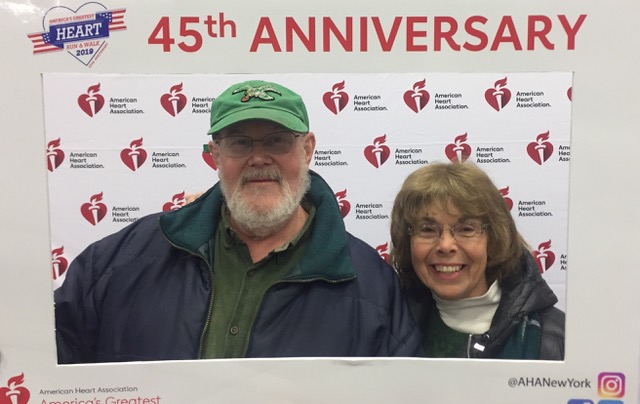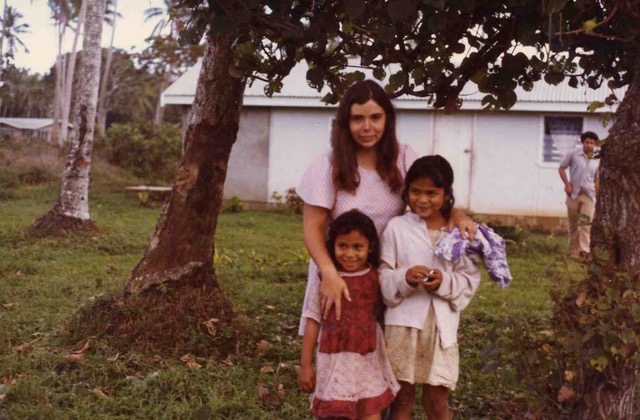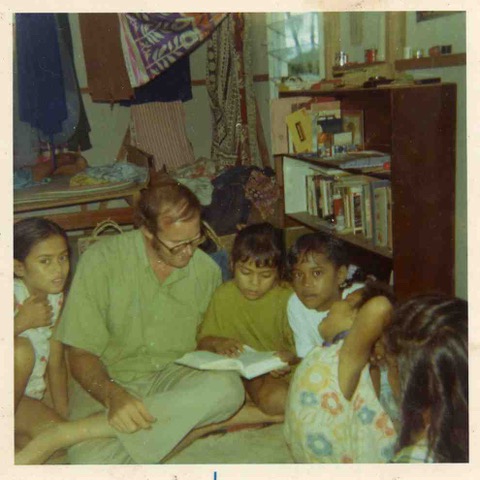 To start off 2020, we decided to release our first special-double-feature Monthly Profile, featuring Al Massinger and Dorothy Perkowsk Massinger!  In an amazing movie-like storyline, Al and Dorothy briefly dated and broke up before joining the Peace Corps; however, they were both sent to Tonga in different volunteer groups!  Dorothy served in Group 10, (1972-1974) and Al served in group 11 (1973-1975).  Both worked and lived around Nuku'alofa (Tonga's capital), on Tongatapu. Al worked at St. Andrews Anglican High School teaching Woodworking and Carpentry, while Dorothy worked as a Middle School Math and English teacher and teacher trainer at Valoloa Wesleyan Middle School.  After their service, Al and Dorothy started dating again and the rest is history!
We asked Al and Dorothy to share some of their memories and experiences from Tonga with us, and we hope you enjoy their responses as much as we did!
1) What is your favorite memory as a Peace Corps volunteer?
AL:  My favorite or most constant memory was the solitude and quiet of Sundays; it was a total day of rest. Waking up and seeing the smoke and smelling the aroma of the umus (underground oven) in preparation for the faka'afe (Sunday lunch) after lotu or church was so wonderful. The memory of the children and adults singing during the church service is still vivid in my mind. The singing was beautiful, yet at times kind of mournful. I think just the amount of singing I was exposed to in Tonga is my best memory. My students singing while they were working on their projects and the endless singing during a faikava (kava ceremony) was so wonderful to experience.
Often my students would be playing and singing along with a broken ukulele between classes.  In the distance you could always hear women sing as they were pounding out making tapa. But the best part of Sunday was waiting outside the Bakery (I think it was Mafi and Sons Bakery) to buy the first loaf of bread made on Sunday evening before midnight. Eating freshly made warm bread or ma smothered with New Zealand butter was the best meal ever, truly a feast for us starving Peace Corps palangis (foreigners).
DOROTHY:  Adding to what Al said, I also found enjoyment in the simplicity of living in Tonga and the lack of having to make choices.  My friends were the families in my neighborhood and the other Peace Corps Volunteers and New Zealand volunteers.  Even going shopping and when it came to buying goods, there were usually only one or two brands to choose from when deciding what to buy.  When I came back to the states and saw how many different brands of tuna fish there was on the shelves, I found that I no longer wanted to make a choice.
2) What is your position now? Did your time in Tonga impact your future career?
AL:  My time in Tonga has very much helped to shape my attitudes and lifestyle to this day, 45 years after first setting down in Tonga.  Prior to going into the Peace Corps and to Tonga, I had made a career move from Metallurgical Engineering to teaching at a school for the developmentally disabled in Philadelphia. I already had a desire to help and serve others, but going to Tonga clarified and strengthened that desire. Also, being exposed to a different culture aroused my interest in working and serving overseas. 
Upon my return from Tonga, I decided to enroll at The School for international Training (SIT) and pursued a Master's degree in International Administration. It is here that I had my first exposure to international students and their needs. After leaving SIT, my wife, Dorothy and I decided to move to Herkimer, NY, where we live to this day. Our desire was to bring as much of Tonga, and what we had learned about the world, to rural Upstate New York. By this time, I decided to become a Registered Nurse and for the past 30+ years I have worked as a Psychiatric Nurse for the Mohawk Valley Health System. Also For the past 30 years, I have been an Adjunct Biology/Anatomy and Physiology teacher at Herkimer County Community College (HCCC). When HCCC instituted an International Student program, I transferred over to it and became one of the first ESL Instructors and tutors. Over the years, I have taught and been involved with hundreds of International students from all over the world. As their teacher and friend, I learned much from these students about their countries and culture.
Moreover, Dorothy is an avid runner and many International students joined our local running club over the years. Conversely, I have been able to teach and introduce our International students to the US, its culture and lifestyles. In this way, Dorothy and I have brought Tonga and the world to Herkimer NY.
DOROTHY:  Being a Peace Corps volunteer played a big part for me in getting a job as a County Adult Protective Worker.  I was hired 35 years ago, and still work in this field.  Living and enjoying learning about another culture opened my eyes to the not so obvious cultures that exist in our small upstate New York town.  I feel I have been able to become more accepting and more curious on why people would make choices that were different from the norm, and how there are no reasons to judge those choices.

3) What is one thing that sticks with you from your time in Tonga?
AL:  It is so hard to pick just one! They all combine into enjoying the love, gentleness, and acceptance of the Tongan people. Some examples include, walking and riding down the road and people calling out to you, wishing you well and asking to come and eat with them. I was impressed at how strong the extended family was and their willingness to share everything that they had with me; wonderful memories of the Tonga club and seeing and talking with my PC friends; every Friday, PCV's from all over Tongatapu and the other islands would get together and share their experiences; and learning how to make lasting friendships was a wonderful experience. I got to make wonderful friendships with several New Zealand volunteers (VSA's) and Canadian volunteers (CUSO's).
Other memories include: many weekend sailing and camping trips to FaFa and Malinoa islands where we lived off the sea and land and truly "roughed it;" the long quiet bike rides at night and listening to A3Zed signing off at 11:00pm to the Tongan National Anthem is a lasting memory.  I taught in Nuku'Alofa but lived in Ha'ateiho. On the 5 mile bicycle ride home at night I could hear every radio in the villages listening to A3Zed.
Being raised in urban Philadelphia, I never really saw the stars until I came to Tonga. I was amazed at how bright a moonlit night was and would enjoy riding my bike on the moonlit evenings without using my flashlight. I once got pulled over by the Tongan police for not using a flashlight and was fined 10 seniti (cents). I got very skilled at riding my bike, while balancing a kato (woven basket) full of books and food, cradling a watermelon under my arm while trying to shell and eat peanuts, shouting at and trying to kick away the dogs that guarded every api (home) as I rode by, all at the same time!
My mind often goes back to playing basketball every Monday evening in the Mormon gym. Also there are many memories that focus on experiencing the Tongan culture and lifestyle. I never tired of the dancing and singing.  I was in Tonga when they had the 100 year celebration of the Constitution called the Kato Anga. For a whole week, every village had their dance and singing team perform in front of the King and Queen of Tonga. During this celebration, a bonfire was lit every 10 yards around the entire perimeter of Tongatapu. The entire shape of the Island could be seen from the air at night.
DOROTHY:  The bright night moon where you could read a book under the moonlight. The dances on Vuna Wharf.  Cold pizza and warm beer. I lived across the street from the Tongan Newspaper and when the workers were on break during the evening shift, they would sit outside and play their guitars and harmonize together. Many nights I fell asleep while being serenaded.
4) What was it like meeting your spouse in Tonga? 
Dorothy:  Al and I met before going to Tonga and dated briefly. While in Tonga, we did not spend a lot of time together, but got back together once we returned home. At our wedding in 1977, we had about a dozen of our Tongan Peace Corps friends and even a couple of Tongans. What is most wonderful about being married to someone that was with you in Tonga is that even though we were in Tonga for only a small time of our lives, it made a huge impact on us.  There are so many days that something is said, or an emotion is felt, or a reference is made that makes us think of Tonga and experiences that we shared. Over the years, it has made our relationship stronger, and more exciting.

5) What would you encourage those going to Tonga for the first time to experience? 
Both:  Take every opportunity to explore the culture. Bring a desire to understand the culture and language. Also, remember that you are very special to them and let the Tongans treat you more than you feel worthy of being treated. Also, realize that you will be giving up a lot of your personal privacy. Often, in the time that I was in Tonga, the PCV's were the Reality TV for the whole village. Tongans also live by the "kole" system, meaning that many possessions are widely shared through the family and village. Be willing to share.

6) How do you think Friends of Tonga better engage with the returned Peace Corps Community? 
Both:  Have them over for a faikava (kava drinking)!  Possibly try to set up smaller groups in key cities since most of us can't get to DC very often. Possible small groups in Boston and San Francisco, Chicago and Portland, Oregon. In this way RPCV's from Tonga can get together and share stories, pictures and connections and become part of a growing Tongan experience.  Continue through the Web Page and Facebook to share stories and news about Tonga.

7) What is one thing you would like to see FoT do? 
Both:  Continue to spread the word of the needs that Tonga has in their development as a country.  Continue the support of individual students financially.
8) Any additional information you might like to share.
AL:  One of most present memories of Tonga is that of Viliami, the Peace Corps van driver. Viliami, along with the other Tongan Peace Corps office staff, would help us volunteers in many ways and was a safety blanket for so many of us. He did so much to help us get the most out of Tonga.  Along with so many Tongans, he was an example of Tongan hospitality and love. Some RPCV's from Tonga think about being a Peace Corps Director or PC staff BUT my real dream has always been to be like Viliami and become the Viliami of Herkimer. I have often been called upon by my International students at HCCC to drive them to Walmart, restaurants, to tourist sites, airports, driving tests, urgent care, train/bus stations, and to expose them to the US way of life. I always said My Van is Your van, in keeping with Viliami's way of helping us as PCV's.
I cherish the way that being in Tonga has helped me to not be rushed and live, as best I can, a Taimi Tonga (Tonga Time) lifestyle where I am not controlled by a clock. Being in Tonga has helped Dorothy and I live and bring a fakatonga (like a Tongan) lifestyle to Upstate NY where we cherish good friends and enjoy a good laugh and each other.
DOROTHY:  A few years ago we came across a Tongan RPCV, Mike, and his Tongan wife and found out that they have lived near us for the past 15 years.  Even though Lose wasn't even born when we were in Tonga, we have become good friends and get together often. Her Tongan smile and Tongan friendliness always makes us feel loved and honored. When we are with her it is like being back in Tonga.
AL: One last but important memory: I had the honor of teaching woodworking and carpentry to Tongan High School students. I was amazed at their ability to carve and use hand tools. I was surprised at their artistry.  It was fun showing them how to blend the use of power tools and Western construction techniques with the skills that they naturally already had.  I enjoyed the countless hours spent in the evenings and weekends helping them get their projects completed. I learned as much as they learned. And they sang in Tongan harmony all through these impromptu classes.
Thank you so much to Al and Dorothy for sharing your experiences with the Friends of Tonga community!