Sina Uipi: Pacific Islander Advocate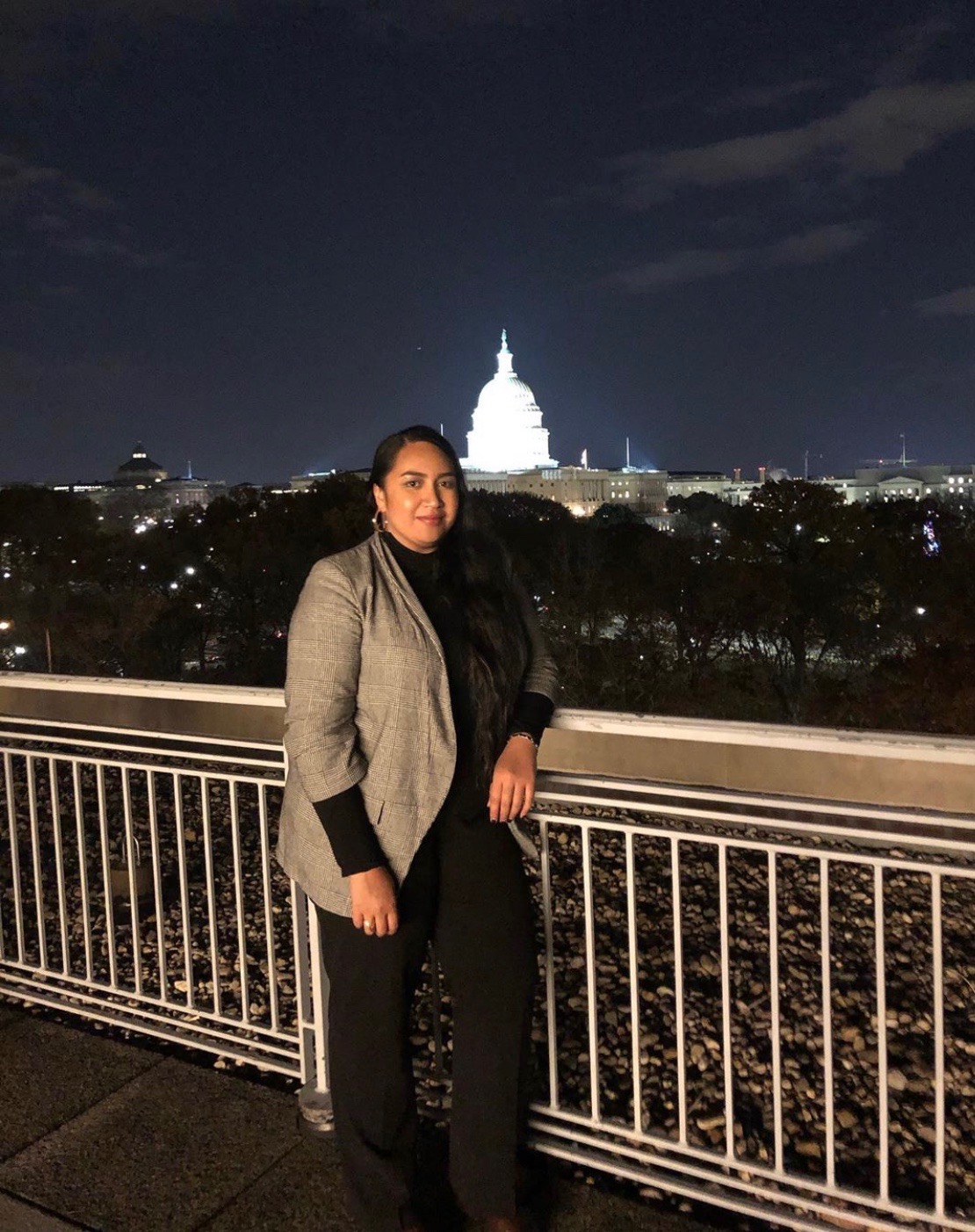 We are excited to introduce our spotlight for May, Sina Uipi! 
Sina Uipi is from Los Angeles, CA and has been Washington, DC for a little over 2 years. Her mom, Luisa Lavulo Uipi is from from Fanga in Kolofo'ou, Tongatapu, and her dad, Sikoti Uipi is from and Fakakai, Haapai.  Sina is a Policy Associate at a non-profit organization called EPIC (Empowering Pacific Islander Communities), focused on advocacy, leadership development, and research, and finding ways to support Pacific Islander communities.
Tell us about your work with EPIC, and the Task Force in the DC Mayor's office:
EPIC is a national organization based in Los Angeles, CA, but I am the DC based staff.  Our organization has been around for 10 years, and the goal is to serve the NHPI (Native Hawaiian and Pacific Islander) community through a social justice lens.  We have many national partners here in DC and across the country to ensure that we have a voice at the national level in policies such as health, education, immigration, housing and economic justice, and more.
I helped start a Pacific Islander Task Force in partnership with the DC Mayor's Office of Asian and Pacific Islander Affairs, which is in its very early stages of being formed, and is designed to engage the PI community here with DC government.  We have about 15-20 people and organizations involved in supporting this task force, a majority of which are PIs working and living close to DC. One of our goals has been to focus on census outreach, and will do more of in the coming months since the deadline for census has been extended to October. The task force was being formed right before we all went into quarantine, so we are hoping to get back in touch with everyone soon. There are 7 members of the task force who are part of the National PI COVID-19 Response Team since there are high rates of Pacific Islander cases in states such as CA, OR, WA, and UT. We are focused on the DC-Maryland-Virginia region and thankfully our numbers aren't high and we're working on strategies for outreach to the community, local government, and the hill. We are in a unique position, being in the capital, and addressing this both locally and on a federal level.
What are you most proud of professionally?
Right now, I'm in the middle of helping to organize a virtual graduation to recognize the graduating class of Pacific Islander students in the midst of this COVID-19 quarantine. This really happened organically when one of my good friends who recently graduated from law school in Hawaii asked if I could help him put together a celebration for students.  My boss recommended some other partners to include for a collaborative effort, and three weeks later, we are in full planning mode for a commencement ceremony for students from all over the U.S., and the islands. We have about 200 students registered, including high school, college and graduate students. We selected student speakers from all different levels to speak during the ceremony and we reached out to PI influencers and celebrities, who will be sharing their gifts with us. They are not being paid, and a lot of the organizations are doing this outside of their regular jobs as volunteers, which is amazing. The event is this Friday, May 29th, so it is the perfect way to end Pacific Islander Heritage Month, which is exciting! Check it out on Facebook: bit.ly/honorpasifikalive 8pm est.
What are you most proud of personally?
I'm proud to do my best to represent Pacific Islanders at the national level. I am not an expert on my community, but I'm trying and will always advocate for them. I don't always get it right but I am all about accountability, so if I say or do something that doesn't align with our community, I know my mentors and elders will help me get back on track. There are very few of us in DC so it's important that we stick together and build solidarity with our allies who aren't Pacific Islander.
What do you see as the biggest challenge facing Tongans and Pacific Islanders currently? How can Tongans prepare for and/or mitigate that challenge?
The first thing that comes to mind is COVID-19 and the disproportionate impact it has on our community. We know many folks are not staying home, and something such as social distancing is a challenge for us. The very thing that gives us a sense of community and is part of who we are, is now deemed as dangerous. However, we have to face the fact that our numbers aren't decreasing and if we're not taking this seriously, we're doing more harm than good and defeats the purpose of us working together to fight it. Trying to make sure we have a fair and accurate count in the census, and at the same time seeing our loved ones lose their lives to this virus is a lot to carry as a community. The National Pacific Islander Covid-19 Response Team has been working together to inform our community and key stakeholders.
The response team has been very good at gathering the data from their local counties. The team's lead, Dr. Ray Samoa, has been interviewed by news outlets and articles online, highlighting the efforts trying to mitigate this issue.  We are working to submit a testimony for the Ways and Means committee hearing this week which will be specifically on the disparities for communities of color due to COVID-19 with a health focus.
How can Friends of Tonga and community members support the efforts you and others in the NHPI community are spearheading? 
We can always use support to highlight the work we do and getting the word out. It's been really cool to see folks in our community organize and mobilize amongst themselves (setting up zoom calls, live streaming events, conducting panels and workshops that feature many Pacific Islander leaders, engaging the faith-based community, etc.). Many of EPIC's partners have been doing a amazing job at shifting their outreach strategies for census and for covid-19.
Last but not least, what is your favorite Tongan food? 
Lu sipi!