Chuck Weikert Member Spotlight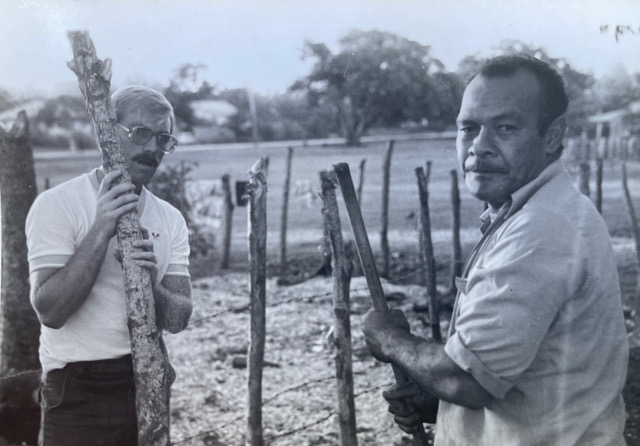 Please welcome our monthly spotlight for October: Chuck Weikert!  
Chuck served as a Peace Corps Volunteer (PCV) from 1977-1979, in the village of Kolovai, on the main island of Tongatapu.  He was a part of the 21st group of PCVs sent to Tonga and served as both a middle school math teacher and a teacher trainer.  
His motivation for joining the Peace Corps was manyfold. At the time, he and his then wife Barbara had no distinct career paths and were undecided how to convert their current reality into their long-term goals. They knew that Peace Corps Volunteers who completed their two year assignment would be granted a year of Non-Competitive Eligibility when applying for jobs within the Federal workforce. Chuck had long held the desire to become a park ranger for the National Park Service and knew this benefit might be just the ticket to enter the ranks of such a highly competitive agency. And besides, Chuck and Barbara were young, adventurous in spirit, had a desire to see what the world had to offer and wanted to put their nascent skills to good use while immersed within another culture well outside their comfort zone. The Peace Corps ticked all of these boxes and they applied. 
When they first received their invitation, they had no idea where Tonga was. "We literally ran to the nearest library," Chuck laughingly recounted, "opened up that massive National Geographic Atlas tome, traced our fingers across the vast blue of the South Pacific to locate the tiny dots that marked the Tongan group and stood there utterly gobsmacked!" 
Living and working in Tonga had a profound effect on Chuck's life and like many returned volunteers, he often thinks about his time as a volunteer. He has profound sensual memories of his village: the tick tick of ngatu mallets, of air scented with the combined essence of frangipani and cooking fires. "That perfumed air has stayed with me to this day and I've not smelled anything like it anyplace else," he said. Chuck also recalls the ever present screeching of Kolovai's fruit bats, one whose sound could only be muted by tropical rains pounding on tin roofs. There was the  taste of lu pulu, lu sipi, and lu ika, of kava and oddly enough by his own admission, one of his favorites -- day old manioke from Sunday's umu. He explained that in combination, these seemingly small details are unique to Tonga and he has never experienced them anyplace else in the world. "But perhaps that was because as volunteers, we were privileged with the time it often takes to inhale all such a sensual place as Tonga had to offer."  
He also fondly thinks of the Tongan people. "The warmth of their welcoming spirit made you feel right at home."  He will always remember the standing Sunday invitation to dinner extended by the school's second year headmaster Sione. "I think it was the informality of the meal that has stayed with me," he said. "Barbara and I were not placed at the head of the table or expected to deliver malangas of any sort. It was rewarding to NOT be treated in any way other than what we were, two fellow teachers relaxing on a Sunday afternoon, sharing stories of our lives, while working our way through a simple family meal."
Being a PCV, in Tonga, did not come without hardships though. Chuck recalls the lack of privacy being particularly challenging and culture shock from how things are in the United States.  He credits that being a married volunteer helped him get through the challenging times because "you had someone to talk things over with."  The most challenging aspect of serving, as a PCV, was accepting the ultimate trajectory of his students. He says, "The tough thing to come to grips with was that my students would not go very far given the educational hierarchy in Tonga and in all likelihood not make it much beyond middle school. You resign yourself to try and do your best to meet the goals of the Peace Corps."  During his Peace Corps tenure, he and Barbara worked with the Peace Corps and USAID to build a community center in his village to host a new group of Volunteer trainees. "It was a great way to close out our service, helping to coordinate the next group of teaching volunteers that arrived in 1980." 
Chuck said he owes much of his success in Tonga to the strong support provided by Peace Corps staff. "The Associate Director Roger Bowen played a major role in helping to structure our assignments, provided support during our time in Tonga. We became fast friends over our mutual interests in freediving and fishing for dinner." 
Upon his return to the United States, Chuck tried his hand at teaching but his overseas experience didn't translate well to a stateside school. "I left after three months," he said "and sweated out the remainder of my non-competitive eligibility with fading hopes." With but two weeks left before his NCE expired, he got a call from the National Park Service at a small park in Nebraska, Scotts Bluff National Monument, a park designated for its place in history on the Oregon Trail. He jumped at the offer and relocated to Nebraska!  It was the beginning of a Park Service career that would take him to various assignments across the country, to be completed with thirteen years spent at Virgin Islands National Park on the island of St. John. Chuck credits his time in Tonga as informing how his career would ultimately unfold. He recounts how impressive the explosions of color and the magic of coral reefs impacted him within days of his arrival in Tonga. "To this day, I remember taking a break from training in Toloa one afternoon and going out to the reef on the windward side. Unusual for that side of the island, the seas were calm enough for us to snorkel through a narrow channel in the fringing reef. Once on the other side, the reef opened up in a virtual explosion of colors, textures and life that stretched into the deep blue beyond.  It was mind boggling!"
In retirement, Chuck volunteers at Birch Aquarium at Scripps Institution of Oceanography, in San Diego.  He delivers talks to visitors in front of the kelp tank and describes the importance of kelp in the marine ecosystem and how climate change is affecting natural kelp.  When he is not busy volunteering, he writes. He is the published author of  "Coral Reef Curiosities: Intrigue, Deception and Wonder on the Reef and Beyond," a book that has been well received by divers, snorkelers and armchair travelers alike.  
He also enjoys traveling and has been back to Tonga frequently over the years.  He still finds it amazing that on rare occasions, people in Tonga still remember and recognize him, including some of his former students.  He was able to travel back to Tonga for January 1, 2000 and witnessed the sunrise from the beach, making him one of the first people in the entire world to welcome in the new millennium! So what do you do after seeing the millennium's first sunrise?  What else, you eat fresh lobster for breakfast!  
When asked for his advice for future Tonga PCVs, he says, "Learn the Tongan language to whatever level you feel that you can. Go for a walk or a bike ride in the bush to see what that side of island life involves and chat up the people working there. It's an important part of island life that is too often out of sight, out of mind. Go fishing. And If so inclined, learn how to snorkel and learn how to do it safely. It's the perfect way to escape the smallness of the island; it refreshes and renews you. Just a great way to decompress, keep island fever at bay and to witness the magic of a coral reef." 
***To check out Chuck's book, Click HERE.