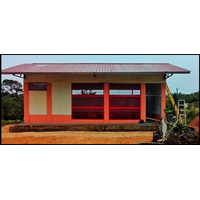 We are incredibly pleased to share with you that the construction of the Ta'anga Kindergarten is now complete!!!
This project has truly been a community led effort. Thanks to amazing donors like you and a partnership with the non-profit Schools for Children of the World (SCW), Friends of Tonga was able to work with local contractors and suppliers to rebuild the Ta'anga Kindergarten.
SCW offered their technical expertise of building a cyclone and earthquake resistant building; their engineers spent countless hours working with contractors on the ground. The Ta'anga community donated the land for the school, provided labor, and protected the building materials. Meanwhile, donors from all over the world contributed to this project: members ran bake sales in England, hosted dessert nights in Florida, donated proceeds from photo sessions in Maryland, and personally contributed generously over the last three years. Lastly, a big malo to the CTR Group Ltd for taking over the project and getting the construction across the finish line!
The success of Friends of Tonga is directly related to the financial support from our donors. We are able to build schools and help Tongan students and teachers have the materials and resources they need because of your generosity. We do not take your support for granted and hope that you will continue to fund these worthwhile causes.
We are raising money to support education opportunities for early-childhood education, which includes building more Kindergartens, providing resources targeting early-childhood education, and building safe environments where students can play. Donate here.
---