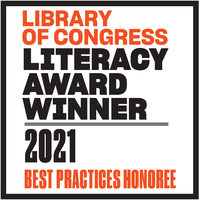 It is with great joy that we can announce that Friends of Tonga has been selected as a 2021 Library of Congress Literacy Awards Program Best Practice Honoree!!!
The Library of Congress Literacy Awards Program honors nonprofit organizations in three major prize categories for outstanding contributions to increasing literacy. It also recognizes up to 15 organizations for their successful implementation of a specific literacy practice. We have been recognized for the FoT video read aloud program! This award comes with a $5,000 prize and the organization has been invited to a virtual best practices conference!
This recognition is incredibly prestigious and we are both honored and humbled to be included with such a fantastic group of honorees for 2021. You can check out our profile, along with the other winners for this year here: https://www.loc.gov/programs/library-of-congress-literacy-awards/winners-and-honorees/winners/
Our Virtual Read-Aloud Program has developed a resource library of videos in which English speakers record themselves reading stories. All books have been authorized by the authors and publishers for use. Also, the video library is housed on the FoT website and can be accessed free-of-charge. Currently the library consists of 81 videos; however, FOT is working to have over 100 read alouds available by the end of 2021 and ultimately have enough books recorded so that there is one for each day of the Tongan school year.
With these videos, in an area where resources are limited, Tongan teachers or parents can have at their fingertips a variety of read alouds to provide to their students or children. It is our goal that these videos will promote a stronger love of reading in Tonga and improve students' English reading and comprehension skills.
Thank you to all of the authors who have generously donated the rights to read their stories, the countless readers who donated their time to record themselves reading stories, our generous donors who financially invest in our programming, and to Chiara Collette, the FoT Program Manager, who has led this initiative from the very beginning and who has made this project what it is: an internationally recognized program!
We are so thankful for the engagement and support of our community! Help us reach our goal of increasing literacy rates in Tonga by reading stories for the video read aloud program and donating to our programs: https://www.friendsoftonga.org/campaigns
---