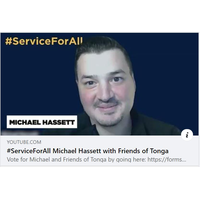 Dear Friends of Tonga Community. Our president, Michael Hassett, is a finalist for the Maryland #ServiceForAll Campaign! The winner of the campaign will be awarded $3,000 USD to their nonprofit! Friends of Tonga could greatly use this money to support our programming and projects!
Could you please click on the video below and use the link to vote for Friends of Tonga? It is quick, easy, and a great way to support Tongan students! Thank you for your continued support of our programming and projects!
https://www.youtube.com/watch?v=DMJcekKzXF8&t=19s
Also, sharing is caring!
#FriendsofTonga #FoT #Tonga #KingdomofTonga #BaltimoreCorps #ServiceforAllCampaign #Maryland
---